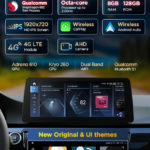 In response to high customer demand, UG launched the QX Series 12.3" 6+128GB Qualcomm car stereos for BMW in January, which were warmly welcomed in the marketplace. Now, in addition to this, we are releasing new models for Mercedes-Benz - the QXM Series - with the same architecture, a screen upgrade and newly upgraded memory. The RAM of the unit has been increased to 8GB, and along with the fresh new packaging for safer shipping, we deliver the very best stereo outfit for your Mercedes.
Let's have a look at what's new:
1. Keep your car's original functions while upgrading the stereo to a powerful new Android system, without removing access to the onboard computer.
2. Even compared to the QXB screen upgrade models for BMW, the QXM series has been further optimised and upgraded. The memory configuration has been upgraded from the original 6+128GB up to 8+128GB, which is enough to accommodate the heaviest workloads.
3. XTRONS' new combination packaging mode keeps your main unit and your mounting pack separate. You can combine different mounting packs with the main unit to fit different car models, making them easier to store and safer to ship.
Let's take a look at the highlights of the QXM series:
1. Real Android 12 OS with Qualcomm Snapdragon 662 AI chip - maximises performance by giving you the powerful essentials you need, with a quick and stable response.
2. 12.3'' super-large IPS screen - defect-free grade-A 1920x720 HD screen with dual layer G+G capacitive touch technology, making the unit blend beautifully.
3. Octa-Core 11nm processor - delivers next-level performance, running up to 2.0GHz clock rate, with 4x Cortex A73 performance cores and 4x Cortex A53 power-efficient cores.
4. Qualcomm Kryo260 CPU - 3rd generation AI engine increases speeds and gives you robust in-device performance.
5. Adreno 610 GPU - supports multi-format video playback decoding, such as H.264, HEVC, MPEG-1/2/4, VP9, etc. Allows you to enjoy magnificent games with smooth, vivid graphics, helping you rediscover details both visually and acoustically.
6. Built-in XTRONS in-house UI – the new system combines with the car's original UI, making the surface simple, beautiful, easy to operate and safe to drive. Moreover, the unique built-in weather app enables you to get access to weather info with ease (when connected to the internet).
7. Built-in Wireless Carplay and Wireless & Wired Android Auto - simply connect your phone wirelessly, or to the USB port of the XTRONS unit. Display mobile content on your head unit's screen. You can also control your phone's software right from your dashboard.
Moreover, XTRONS car stereos use automotive-grade hardware, including Grade-A LCD screens, Genuine DDR & SSD, a redesigned premium XTRONS aluminium heat sink and more!
The first batch of QXM products includes units for the following models: Mercedes-Benz GLK-Class with NTG 4.0/4.5 system for Left-hand drive; B-Class with NTG 4.5/5.0 system, A/C/E/GLA/CLA/GLS-Class with NTG 4.0/4.5/5.0 system for Left-hand and Right-hand drive. Please contact our sales team for details if you are interested in any of the models above or any related model. From 8 + 256GB to 4 + 64GB, there's always one suitable for you!
Very soon to follow are new related models in the series for Audi. Please stay tuned.