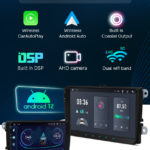 After the release of our great value PE series with octa-core 2+32GB, and the octa-core 4+64GB 4G IA series, XTRONS now launches the new PEX series – with an octa-core 4+64GB processor, powerful Wi-Fi connections, and great pricing.
Here are the highlights of the PEX series:
1. Latest Android 12 OS - the advanced and powerful 14nm octa-core processor, running up to 2.0~2.5Ghz frequency is ready to power through your day, delivering optimum performance.
2. DDR4 4GB RAM and SSD 64GB ROM - supports your multitasking needs with ease and store more of your favorite apps, games and media files. DDR4 provides up to 50% higher performance and bandwidth, while decreasing the power consumption.
3. The display delivers exceptional visuals - with high-resolution 1280*720 Grade-A G+G IPS screens, and 1024*600 screen is for 7 inch, the display offers a sensitive and smooth touch experience with an effortless touch of the fingertip.
4. Dual UI theme, dual experience - simple and beautiful interface, easy to operate and safe to drive.
5. Built-in full-featured Carplay & Android Auto - supports both wireless and cable connections, allowing you to access to your favourite mobile apps in a smarter and safer way.
6. Superior Coaxial Audio Output - premium audio output components are crafted to deliver purity of sound, while minimising signal transmission loss.
Besides all those impressive highlights, here are some other features:
1. Versatile DSP chip, cinematic music enjoyment. For a new level of cinematic sound immersion, XTRONS PEX series is powered by multifunctional DSP chip, which features a 30 band graphic equaliser and plenty of music customisation and enhancement options.
2. It supports both 2.4GHz and 5GHz bands of Wi-Fi. You can either use the 5GHz band for faster data transmission speed or use the 2.4GHz to keep the strongest Wi-Fi connection with longer reach.
3. Latest Bluetooth 5.0 which supports the latest Android OS and iPhone OS system. Enjoy more steady connections and higher quality transmission for hands-free calls, phone book synchronising, Bluetooth music and displaying your recent call log with Bluetooth 5.0.
4. Supports AHD Cameras. Besides the quick reversing mode, the PEX series supports AHD 1080P cameras, giving you a worry-free reversing experience.
5. The picture-in-picture feature can keep the video playback window open while you use other features. You can keep a consistent video experience while using the car stereo for browsing info online, or for navigation to other apps.
As always, XTRONS car stereos use automotive-grade hardware, including a STMicroelectronics TDA7708 radio and STMicroelectronics TDA7388 amplifier, flawless grade-A LCD screens, Genuine DDR & SSD, XTRONS' redesigned premium aluminum heat sink, XTRONS' in-house UI and more.
For the new PEX series, we are releasing the following models, including a 7" universal fit car stereo, units fit for two Fiat models, 9" VW, 8" VW, 8" Opel without media player, 7" Toyota, 7" jeep and 7" Hyundai ix35. In addition to the existing configuration, we also offer the upgraded processor option at 4+128GB. More models will be added to this product line soon, so please stay tuned as XTRONS continue to redefine the in-car entertainment experience.