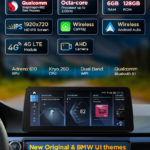 As the best way to upgrade your original car screen, our Qualcomm car stereos have always been loved by our customers. For some time now, XTRONS have offered the Qualcomm 8953 Snapdragon Octa-Core 4+64GB QS series, alongside the high-end Qualcomm Snapdragon 662 6+128GB QP series. Now taking this technology even further, XTRONS Released the 12.3'' Super-large IPS Screen, with the ultimate Qualcomm Snapdragon 662 6+128GB Solution on the latest android 12 OS. Together with the newest BMW UI, the series features a full set of UI selections and new global weather features, bringing you an unprecedented car infotainment experience with a high-end configuration.
Keep your car's original functions in place and upgrade your car stereo to a powerful new Android system, without removing your original factory media system.
Let's take a look at the highlights of the QX series:
1. Real Android 12 OS Qualcomm Snapdragon 662 AI solution - maximises performance by giving you the powerful essentials you need, with quick and stable response.
2. 12.3'' super-large IPS screen - defect-free grade-A 1920*720 HD screen with dual layer G+G capacitive touch technology, making the unit blends beautifully.
3. Octa-Core 11nm processor - delivers next-level performance, running up to 2.0GHz clock rate, with 4x Cortex A73 performance cores and 4x Cortex A53 power-efficient cores.
4. Qualcomm Kryo260 CPU - 3rd generation AI engine increases speeds and gives you robust in-device performance.
5. Adreno 610 GPU - supports multi-format video playback decoding, such as H.264, HEVC, MPEG-1/2/4, VP9, etc. Therefore, it allows you to enjoy magnificent games with smooth, vivid graphics, and you will be able to rediscover details both visually and acoustically.
6. Built-in XTRONS in-house UI – the new system combines with the original car style BMW/Mercedes-Benz UI, making the surface simple, beautiful, easy to operate and safe to drive. Moreover, the unique built-in weather app enables you to get access to weather info with ease (when connect to the internet).
7. Dual channel 6GB LPDDR4 RAM & 128GB Solid State ROM - accommodates the heaviest workloads, it is ready for anything.
8. Built-in Wireless Carplay and Wireless & Wired Android Auto - simply connect your phone wirelessly or to the USB port of the XTRONS unit. Display mobile content on your head unit's screen. You can also control your phone's software right from your dashboard.
9. Integrated 4G solution - supports local carriers in Asia and Europe and can also be specific to other areas. Supports 4G to WIFI hotspots, so all your passengers can share the network.
10. Qualcomm Bluetooth 5.1 - enjoy steadier connections and higher quality transmission for hands-free calls and music streaming with Qualcomm Bluetooth 5.1.
11. Dual-band Wi-Fi - supports both 2.4GHz and 5GHz band, providing faster speeds, flexibility and secure connection. You can browse website, stream media files and play games online from any app, smoothly and effortlessly.
12. Instant camera access - supports AHD Cameras. Get access to the reversing mode instantly and enjoy wider vision whenever in reverse gear. Thanks to the quick camera mode and the compatibility of AHD 720P/1080P camera (optional), XTRONS QX series provide you a worry-free reversing experience.
Besides all those impressive features, you can choose between the new XTRONS in-house UI and your original car's UI, and each unit is shipped with professional Installation instructions and user manuals in German and English. We've carried out a series of tests for each model to ensure you get the right product and professional guidance.
Moreover, XTRONS car stereos use automotive-grade hardware, including Grade-A LCD screens, Genuine DDR & SSD, a redesigned premium XTRONS aluminum heat sink and more!
For this new QX series, we now launching 9 models: for BMW 3 series with NBT/CCC system/CIC system/no original display and left-hand drive, 5 series with CCC system/CIC system, X5 with CCC system/CIC system, X6 with CCC system/CIC system, 4 series with NBT system, 1 series with no original display, X1 with no original display and X3 with no original display. Please contact our sales team for details if you are interested in any of the models above. If you are looking for a stereo for another related model, please consult us - whether 8+256GB or 4+64GB, there's always one suitable for you!