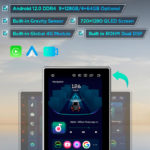 Recently XTRONS launched a new high-end product line – the IX series, which was released after IQ Series with higher memory. The IX series has a high-end chips structure, 8+128GB, software and materials in a high-end configuration and an entire rotatable portrait screen with built-in gravity sensor, bringing you an unprecedented car infotainment experience.
First, let's take a look at the highlights:
1. Android 12 Octa-core Processor (2*Cortex A75 + 6*Cortex A55), maximises the performance by giving you the powerful essentials you need.
2. Engineered with the most established 12nm process and the brand new architecture Mali-G52 GPU, which can tackle your most demanding tasks with ease and unleash more possibilities for driving entertainment.
3. The authentic mainstream built-in 8GB DDR4 RAM and 128GB ROM empowers you to run multiple apps simultaneously and load up more of your favorite apps, music and videos whenever you go.
4. The 10.1'' ergonomic design rotatable QLED with built-in Gravity Sensor will make the most of your content on the android unit, you'll always maximize your viewing experience whether it's in portrait mode or landscape mode.
5. QLED Display 10.1 inch & 9 inch 1280*720 Screen, 7 inch 1024*600 Screen, you'll see more stunning colorful images with surprising lightness and more details from all angles.
6. Global 4G LTE network, support 99% of carriers worldwide, enjoy strong signal, fast speeds, stable performance and ease of use.
Besides all the great features above, the Android 12 IX Series also has cutting-edge hardware and some of the most sought-after features:
1. The automotive-grade ROHM DSP chip can hugely reduce audio noise and offers lots of options to customise your sound, so you can listen to the best high fidelity music possible on your journey.
2. Built-in wireless CarPlay and wireless & wired Android Auto, enables boundary-free interaction with your smartphone.
3. Dual Band Wi-Fi. Supports both 2.4G and 5G band Wi-Fi and provides faster speeds and better flexibility.
4. Supports front camera and rear camera, AHD (1920x1080) camera with a wider angle to assist you in many driving situations.
5. Supports USB Tethering by connecting your phone to this unit with a USB cable, then configure your smartphone for sharing mobile internet in settings.
Like the units in other XTRONS series, the IX series also has an exclusively designed XTRONS in-house UI, Grade-A screen, Solid RAM and ROM, professional in-vehicle chips such as TDA7708 radio with RDS and TDA7388 high power amplifier, XTRONS' signature aluminum heat sink and more. All these details distinguish us from other suppliers, offering higher quality components and better build quality.
Now we have a 7'' screen TIX725L, and two 10.1'' screen TIX125L / TX120L, and 9'' screen IX92MTVL custom fitted for VW, more details as below:
1. 7'' screen universal car stereo which has a front panel 4G SIM card slot design.
2. The two 10.1" QLED screen universal car stereos with horizontal and portrait screen, and TX120L is with the popular 4+64GB configuration.
3. 9'' QLED screen for VW is a rare private model in the market.
More models will be added to this product line soon, so please stay tuned as UG continue to redefine the in-car entertainment experience.