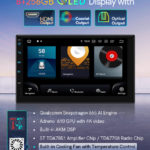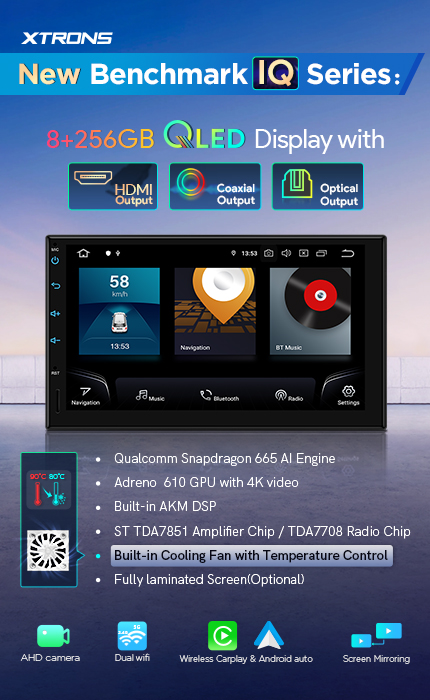 XTRONS IQ Series
The IQ Series is a high-end product line with a powerful Qualcomm processor, ample storage space, and impressive features such as HDMI output. The series has been widely praised by customers, and now we are excited to announce that the entire line has been upgraded to the highest configuration and features not found in other similar products on the market. We have also improved the brand and added controllable heat dissipation and a unique large-screen frame design to provide an unparalleled experience for customers and dealers.
Key features of the IQ Series:
A: Processor Configuration:
Qualcomm Snapdragon 665 AI processor/11nm process, octa-core 2.0GHz, Kryo 260 architecture
Built-in Adreno 610 GPU, support for 4K 30fps multi-format video playback (decoding H.264, HEVC, MPEG-1/2/4, VP9, and more)
LPDDR4 8GB RAM 256GB ROM SSD
B: Unique Product Features:
HDMI same screen display, same screen different display
QLED G+G screen, 8/9" 1280720 large screen frame fully adheres to 1280800 pixels
Standard optical fiber coaxial RCA output
Professional heat dissipation design, aluminum heat sink + built-in temperature-controlled heat dissipation fan
XTRONS exclusive UI/packaging/bilingual manual
C: Hardware Configuration Overview: Car brand standards: ST MCU/amplifier chip (ST TDA7851)+radio chip TDA7708/AKM DSP, and more
D: Other Features:
Built-in Carplay + Android Auto/mobile phone interconnection
Built-in European and Asian version 4G
Supports dual-band 2.5/5G Wi-Fi
Supports AHD 1080P HD camera
Other common functions such as GPS, USB, SD, and more
We are excited to introduce the latest car models to the IQ series, including the existing IQ models and new models such as the 8" Audi A3, 9" Audi TT, and Benz 350. Additionally, we are expecting the American version of the 4G model ACHL ISL to arrive soon. Stay tuned for more updates!