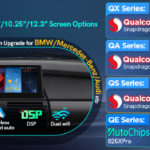 To meet market demand, XTRONS' already produces a wide range of models in its Q Series, with high quality features and upgraded screens for BMW, Mercedes-Benz and Audi, and a variety of configuration options. For Audi, we already have the Qualcomm 450 10.25" screen 4+64GB QSA Series, along with the 8.8" display MTK octa-core 2+32GB QEA Series. Now we are introducing a high-end, 12.3" big screen Qualcomm 662 8+128GB model for the QSA Series, as well as a 10.25" screen MTK 8 core 2+32GB model for the QEA Series, enriching the product line for Audi even further. Let's have a look at what's new:
First, the highlights of the QXA series:
1. Real Android 12 OS with Qualcomm Snapdragon 662 AI chip - maximises performance by giving you the powerful essentials you need, with a quick and stable response.
2. 12.3" super-large IPS screen - defect-free grade-A 1920x720 HD screen with dual layer G+G capacitive touch technology, making the unit blend beautifully.
3. Octa-Core 11nm processor - delivers next-level performance, running up to 2.0GHz clock rate, with 4x Cortex A73 performance cores and 4x Cortex A53 power-efficient cores.
4. Qualcomm Kryo260 CPU - 3rd generation AI engine increases speeds and gives you robust in-device performance.
5. Adreno 610 GPU - supports multi-format video playback decoding, such as H.264, HEVC, MPEG-1/2/4, VP9, etc. Allows you to enjoy magnificent games with smooth, vivid graphics, helping you rediscover details both visually and acoustically.
6. Switchable UI - XTRONS exclusive in-house UI plus your original UI. You can choose either as you wish. Moreover, the unique built-in weather app enables you to get access to weather information with ease (when connected to the internet).
7. Built-in Wireless Carplay and Wireless & Wired Android Auto - simply connect your phone wirelessly, or to the USB port of the XTRONS unit. Display mobile content on your head unit's screen. You can also control your phone's software right from your dashboard.
Next, let's take a look at the highlights of the QEA series:
1. With the Android 12 OS, Octa-core processor, up to 2.0GHz frequency and DDR4 2GB RAM + 32GB SSD ROM, the QEA series car stereos have compelling performance.
2. Grade-A defect-free 10.25" premium IPS G+G capacitive touch screen. Combines sensitive response with great durability and offers brilliant images from multiple viewing angles.
3. Built-in Global 4G - supports 99% of carriers in the world. Easy to keep the car stereo connected by simply inserting a SIM card, no matter where you live.
4. Built in Wireless and Wired CarPlay & Wireless and Wired Android Auto. Brings you an incredible way to access GPS, calls, music, Google Assistant and Siri from mobile phones while on the road, for a truly connected experience.
5. Switchable UI - XTRONS exclusive in-house UI plus your original UI. You can choose either, as you wish.
6. Supports 1080P/720P AHD Cameras, so you can enter reversing mode quickly, whenever you are reversing, offering you an optimised driving experience.
Finally, the new QXA/QEA series uses XTRONS' new combination packaging mode, with the two series sharing the same mounting base. This new release greatly enriches the models on sale, especially for right-hand drive cars. Meanwhile, this also reduces your stocking costs and risks. You can expand to a wider range of models conveniently, at the lowest cost. This new packing method has been applied in the newly released QXM Series for Mercedes-Benz, as well as the two aforementioned Audi models and will be adopted in the upcoming BMW Series too. Please stay tuned for updates.
If you are interested in other configurations, please contact our sales department directly.