How to place a quotation
First you need to login to your account using your username and password. If you do not have this please register or contact our sales team sales@ugsage.com
Once logged in continue to browse the site categories, once you find a product you are interested in simply click "ADD TO QUOTE"

You can then either proceed to the quote screen or continue shopping.
Once you are happy with your items click view quote.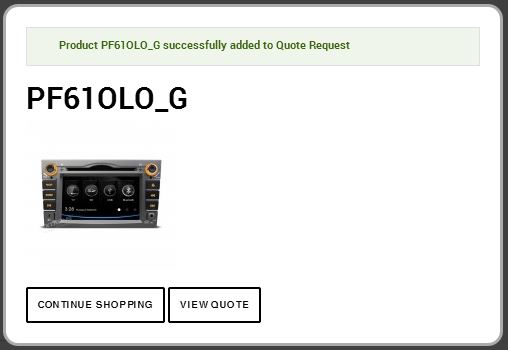 When you arrive at the quote screen please make sure the quantities are correct and that you enter the correct shipping and billing information.
Once you have checked this please click "REQUEST QUOTE"
Your request will forwarded to the sales team and they will email you confirmation.
You will receive a quotation confirming your requirements and full costing via email. Once you receive your quote and are happy with this click the proceed to checkout button on the email.

You will then be logged in to your account, click the "VIEW QUOTE"

Please check the quote details here and if you are happy please click "CONFIRM AND CHECKOUT"

Once you arrive at the Checkout please make sure you check the billing and shipping information. Then choose your required payment method. Then simply review the order remembering to add the DECALRED VALUE and then click "PLACE ORDER".
We will then email you order confirmation once payment is confirmed, the confirmation will contain your order details and any relevant shipping/tracking information.
If you need to edit or reject a quotation for any reason please use the "EDIT", "REJECT" function. Then follow the

resubmit the quote and we will email you the amended quote then simply follow the steps through to checkout.